Swansea bar brand refresh and logo
A new look and updated logo design fitting for a historical landmark pub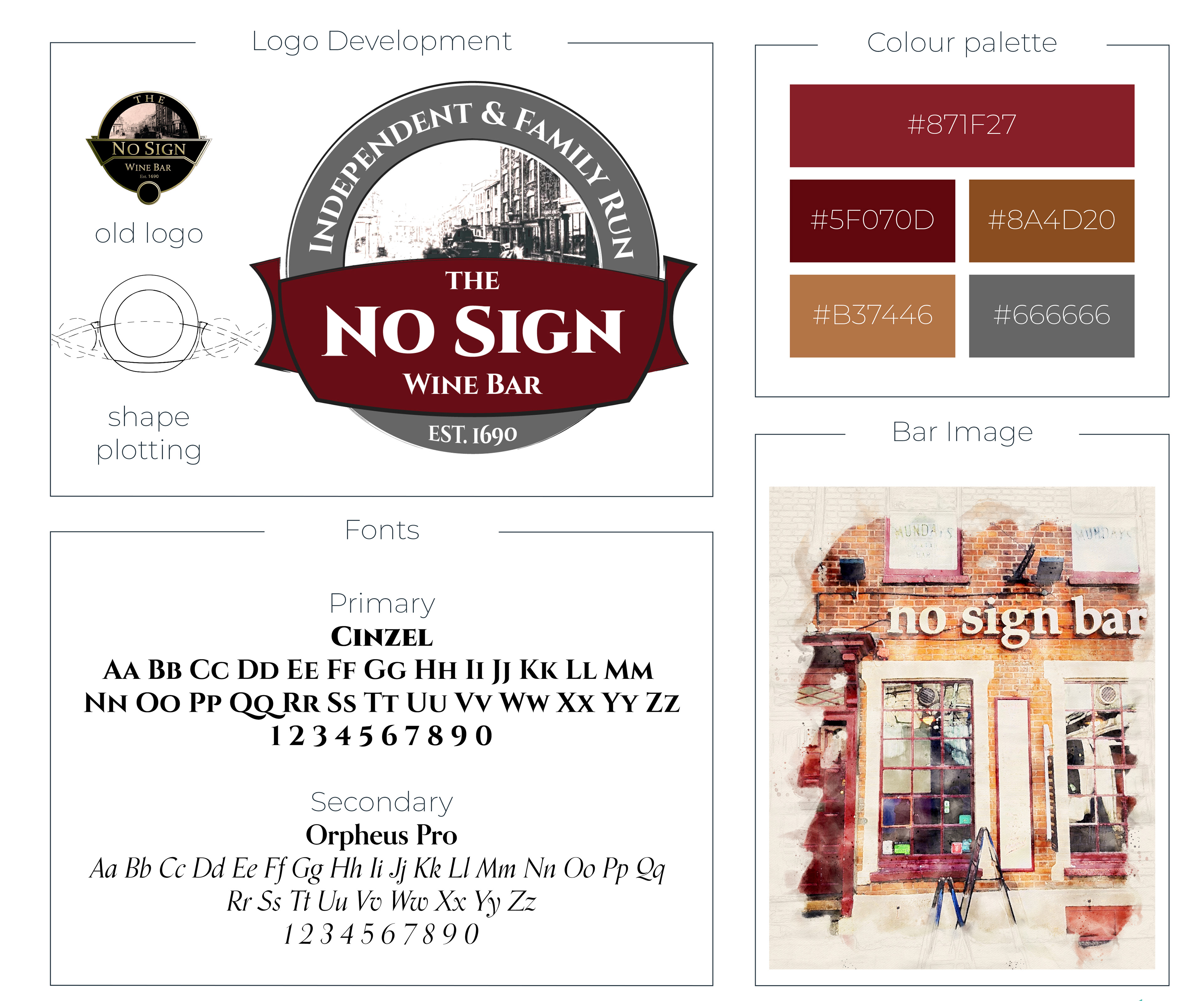 The No Sign Wine Bar is a well known Swansea stalwart, having been a w

ine merchants or bar since way back in 1690. 
The existing logo only dated back to 2012 but was dark, dated and a surprisingly large file being chock full of

gradients. Having previously worked with No Sign we'd managed to brighten it up a little,  in 2020 offered the 

perfect time to produce a real updated look.
The No Sign Wine Bar is steeped in history and abandoning the feel they had cultivated over years for a full change would not be appropriate but there was definitely the opportunity to bring in a new more contemporary look and fresher co

lours without losing the warm, welcoming feel the bar is known for.
⬤    
New logo, a continuation of the previous format
⬤   
Emphasis on the fact that the business is not part of a chain
⬤
    Specified font for the venue to use on all literature
⬤
    New menus and posters for the bar
The decision was made to separate promotional material, with long term display using the core colour range, centred around the deep red used prominently within the bar, but short term

material using a lot more vibrant colour. Also brought in was a more fluid watercolour effect to break the staid appearance of previous material. 
​​​​​​​
The posters shown here give an example of the variety we were able to work with. For literature that's intended to be on display for long periods of time, the primary colour set is used, the centre poster is to be displayed outside the building. For event and short term use more vibrant colours can be used, such as with the mask poster.
The venue has quite an extensive menu and is printed on a cream coloured paper, that much they wanted to keep. SO the menu has been kept simple in two columns with some small illustrations for a splash of colour.